Ivory Tower Perps
For the last decade we've heard non-stop awareness rantings about how rape culture was literally everywhere.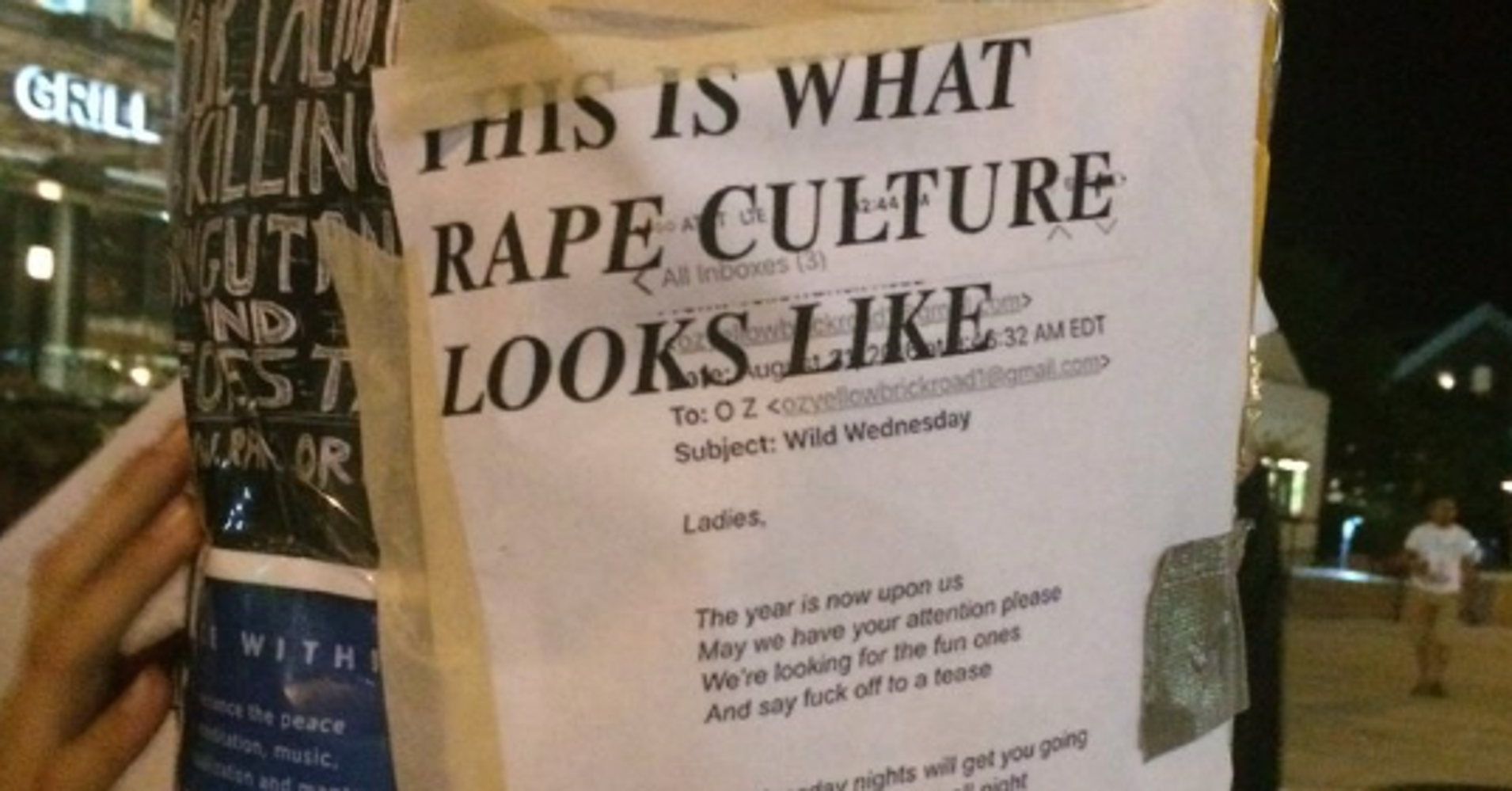 It was in the gutters, Walmart, and in our very currency. Lecturer and preacher-in-chief- Harvey Weinstein, an outspoken champion of women, was there to tell us about our evil male rape desires.
Apparently so were all these other Hollywood actors, media personalities, and semi-plutocrats with lots of power and money telling us that "rape culture" was interwoven in the very fabric of our culture and lives.   It reminds of me of that video where a girl was getting arrested and eventually resorted to screaming, "RAPE!!!!!"
They are obsessed with rape culture, because they are the one's perpetrating it.
Look at that list of Hollywood, media, and cultural movers and shakers who've been accused of nefarious sexual deeds and harassment.   It keeps expanding by the day.
For them it was their way of life. Those bumpkins of us who rejected their screeds were labeled everything from KKK, MRAs, and Nazis to Misogynists, sexists, and patriarchal bigots who wanted anything "female" in the kitchen, barefoot, and pregnant.  We just had no idea how terrible we were in comparison to where the sermons were coming from.
Surprisingly, all the problems they worried about all day and night were occurring, it was just that odious self-righteous attention was in the wrong place.  It wasn't university campuses where drunken students couldn't remember if they "consented" or not.  Nor was it the random creep patrolling the parking lots for a violent movie like attack.  It wasn't even that family member in small town america who likes guns and trucks where all of us misogynist bigots live that want to hold women down. Nope, not even the prisons where the term "Rape culture" actually came from.
It was them the whole damn time.
Credit for the inspiration for this post  goes to a recent Aurini livestream in which they discussed Harvey Weinstein and the predatory actions of the Hollywood titan producer dropped a following thought bomb that got my brain waves going.
This was of course deliberate distraction from the real culprits like Harvey Weinstein who donated to the right party – democrats – who looked the other way as they virtue signaled to the rest of us.  The feminists behind "Free The Nipple" would give him special thanks even after her harassed the director/actress behind it.
Rape culture was taking place where the people of power and influence were – Hollywood, media producers, ect.  You know, where all that "A LOT of power+privilege" stuff actually exists. It was where the movers and shakers with their casting couches, freaky fetishes, and ability to turn people into stars and give them famed careers occupied in their luxury office and studios – for a steep price.
It was even in White House where outspoken fundraisers for progressives causes and politicians like Harvey Weinstein were cutting 10,000$ checks to Bill Clinton's defense fund against Monica Lewinsky.  Even his corporation was willing to tolerate his behavior by having his contract written in a way to allow sexual abuse.  These sick degenerates were infected and spreading their disease from the top down.   It's an infestation.
Preaching from a high pulpit, they were banging the altar boy while accusing us of doing the same.  For all the fundraising, donation to "victim" organizations, speeches for the decades, and media about stopping "sexual harassment" these rich movers and shakers were swimming in pools of victim tears for the modest exchange of a film role.
The mainstream and tabloid press who always tell us about how sexist we are had no interest in accountability when it came to gatekeepers like Weinstein. They were getting too much out of it. It's almost as if these people don't believe any of their equality and feminism screeds, but see it rather as a useful political weapon for sappy feminists hung up on tweeting pride for their abortions.
"But Weinstein had a knack for flattering reporters. He once had his staff put together a mock poster for "Page Six: The Movie" — starring George Clooney, Nicole Kidman, Russell Crowe, Mel Gibson and Matt Damon as the column's authors — and sent it to the newsroom. "
"Unfortunately, everyone likes to be around glamour, right?" said Tina Brown, the veteran New York City editor who oversaw Talk magazine, a much-hyped but short-lived project of Miramax. "All these favors and goodies were cherished by these reporters. It wasn't worth it to them to disrupt that system." 
Projection From Pervy Progressives
The very places it wasn't supposed to happen – the most progressive and "feminist" in America – were cesspools of rape and sexual harassment. Well, these degenerate hypocrites were so consumed by shame and guilt they had to find "worse" culprits and punching bags elsewhere.  So they projected it upon the rest of the populace to alleviate their shame.
These celebrity feminists and their creepy white knight male feminists allies in their twitter tirades projected that since actual rape and sexual harassment they couldn't or wouldn't discuss was happening in their ivory towers of progressive safe space feminism of all places, it had to be occurring probably much worse elsewhere in the less educated, too conservative, and non-enlightened enclaves of small town america.
Sure a few here and there spoke up about it, but thanks to settlements and non-disclosure agreements, the moist hushing would continue.  While they were lecturing us about victim shaming and silencing, Barbara Walters would scold Corey Feldman for "damaging" an entire industry when he mentioned the abuse.
Too much money was at stake and Corey is male so his privilege obviously trumps the abuse.  For years the whispers have gone back and forth about pedophelia in Pedowood and deliberate abuse of child actors.  It was shushed away.  Finally, it apeaars that the dam has burst and that more hypocrite fire-breathing paragons of virtue from Hollywood are to be exposed.
Harvey is just the first.  He knows he's about to be sacrificed to the bloodthirsty feminist aztec gods so in order to remind them of his humanity and his faction loyalty, he issues an official statement that attempts to gain atonement by referencing Trump and about how the NRA is going to be a blood sacrifice- for him raping and harassing women.
His atonement?
"I'm going to give the [National Rifle Association] my full attention," Weinstein wrote, adding that he would establish a $5 million scholarship foundation at the University of Southern California for women directors."
I'm sure saying mean things about the NRA is going to make those women feel WAY better. The nerve of this man and those like him. All the harassment of women that he derided and the women's causes he championed are acceptable substitutes because he donated to democrats.  It's okay when they do it, but if it's one us backwards to the right of Bernie types, then the SWAT teams need to be deployed to make us pay for our supposed original sins.
Notice their thinking; they can preach about "rape culture" while engaging in it, as long as they pay the necessary dues. It's typical of these people.  They portray a sympathetic heart that supposedly bleeds deeply for humanity, while undertaking all the fashionable and courageous causes.  Of course they face little backlash from a supposed hostile majority populace who cant afford to lose their jobs with "brave" public posturing.  In their esteemed private lives, it's acceptable to treat people like dirt on a personal basis because they believe in group causes, not the individuals they belong to – or don't when considering the rest of us.