We Are Our Own Worst Enemies
Black Friday and specifically shopping during Thanksgiving dinner itself wouldn't be the obsession it is if it weren't for you.  If your family time was more important to you than a new flatscreen, less stores would be open during the time.
You selfish thankless bastards wouldn't know that Thanksgiving was supposed to be special time to give thanks and be grateful with family and friends or go Black Friday shopping and fight with people over electronics at your local Walmart while shirking that family time.
While Black Friday participation was thankfully down this year among thirsty shoppers by about 20%, the consumer culture that it feeds is alive and sucking the wallets and time of the afflicted.   Yes, more stores closed, but still plenty were open.  This doesn't even include the various warehouses where we stick our seasonal wage slaves.
Everyone – regardless of their ideology – can put their finger on this notion that something is deeply wrong, but most haven't dug deep enough.  Simply put, we can't fix ANY of our problems until we fix our people and the culture they create.
We can't build meaningful relationships that transcend all the difficulties of life if we will spend that time on obsessing over Amazon details or shopping at Walmart instead of with our families over some tasty turkey.
That problem lingering deep down in a shadowy hole is that there are far too many people willing to forget their families in favor of shopping during Thanksgiving Dinner to save a few dollars off crap they really don't need or have to own.   Do you really need another tablet?
Of course, greedy corporations and businesses looking to churn out profits from already greedy debt-ridden consumers are willing to appeal to the fallen angels of our nature to generate some additional cash for their never satisfied shareholders. We are our own worst enemy and there is plenty of mutual feeding on greed to go around.
It's an unspoken dirty secret, but if there weren't a significant amount of consumers willing to abandon precious time with family and friends – which they probably don't see all that often – for "deals" and gadgets, there wouldn't this hoard of companies willing to make millions of people work like dogs during Thanksgiving.
Maybe even the desperate deal shoppers themselves might think twice before throwing another article of clothing on the ground with the assumption some poor minimum wage seasonal worker is going to pick it up for the hours and hours of sorting and cleanup that will be happening all week.
The demand for Black Friday and it's accompanying World Star videos are because enough of us are significantly demanding with pockets deep enough to blow 5 billion dollars in 24 hours on a day that is now stretching into the weekend.
Until that changes not only will most of us not be thankful for what we have – as well as the time we can spend with friends and family – but we will sacrifice the little time we have with them for the pursuit of more stuff.
No, this isn't as if you are toiling away for a career, rather you are upgrading your 40 inch tv to a 55 inch during the time you should be spending with your family – the ones who actually care about you.
What make us supposedly happy and our primary goals are reflected by what we spend our time doing and investing in.  As Black Friday shows, too many people are still spending that time and money on stuff than on time with their families.   It's what makes them happy.
That's a horrid problem itself.  How do you alter the ingrained programming of thousands of hours of media that more stuff will make you happy?
Attitude of Gratitude
Often we forget about being thankful for what we have because so many people think their life is crap because they dont have the newest gadgets, products, or apps.  We end up shackled to these items and unable to experience the freedom found in gratitude.  Joseph Mussomeli at the Imaginative Conservative makes this point:
"But gratitude remains the only key that unshackles us and lets us breathe free. Life is a peculiar phenomenon. We all unthinkingly use the phrase "the gift of life," but it is only a gift if we really think of it as such. If we don't, then life is an unbearable curse. It is Hell itself. No matter how bountiful and varied our good fortune, life has no flavor and is devoid of any joy unless we are grateful for it. As the Dominican mystic Meister Eckhardt succinctly put it: "If the only prayer you ever said in your whole life was thank you, that would suffice.""
The newest IPhone and 4k tv wont make you feel any more lively than your previous generation Iphone. Unless you are grateful for what you have, you will never be grateful for the future possessions you so envy after seeing ads for the latest flash sale or Amazon deal.
It's tragic, but there is one definite way to experience gratitude just as Scrooge did in Charles Dickens parable like story or Jesus' tale of the prodigal son.
You have to lose everything.  Your health, family, and every last item you so dearly valued.  You have to be brought down to rock bottom to rise back up, riches to rags.
Hopefully, we can learn those lessons Scrooge style from those who have so that we don't have to go through their pain.
To that grateful end, I will share a tragic story that is a part of my industry.  Remember to look on that sunny brightside.  It could be much, much worse. So be thankful for once, you thankless bastards.
Where I work, I run into some rather sad unfortunate stories.
It's made me realize a few things. We often get caught up in our own lives, worlds, bubbles, and in the troubles and trials that we endure.  Its easy to forget about the plights of those in the distance who are faring much worse.  We become our own worst enemy.
No doubt many of us have seen pictures, videos, and stories about the recent hurricane devastation that has been wrought upon Texas, Florida, and now Puerto Rico.  Or the fires that ravaged California. These people lost everything, but their families and friends remained intact who hopefully aren't too immersed in "stuff" to lend them aid and support.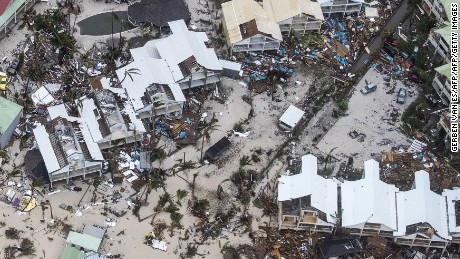 Talk to each person whose lost something there and you'll hear some depressing stories about their current living situations as they try to cope. (Most of us take our support networks and families for granted.)
I won't reveal where I work as we are in the age of self-righteous Internet lynch mobs who go after people's jobs as I have a wife and two sons to support.
However I can tell you about about a tragic story I ran into.
Hotel From Hell
---
I'm on the phone talking to a man – we will call him George – who is stuck in a hotel of a large hotel chain.  Him, his wife, and his infant son are homeless after the hurricane.  Evacuating, they took with them as many clothes as they could, their son's pack-in-play, car seat, and baby carrier you strap to your chest.
George – who was a vet and had fought in our recent middle east excursions – described that everything left in the hurricanes wake reminded him of towns he had seen that had been completely ravaged by bombs and artillery fire.  Their home which I believe was in Tallahassee had been utterly destroyed from Hurricane Irma.
Forced to go from one Red Cross makeshift shelter to another – with a rather sick infant,  a tad bit of luck would come their way; George's brother would pay for them to stay at hotel for a period of time to get them out of the vicious hot humid weather.  All of the "good" hotels were booked through already.
They would begin their stay on Monday and on Tuesday night their already existing suffering would escalate.  Their infant son – about 5 and a half months old – had just been in the hospital three weeks prior.  Apparently he had been in and out of the NICU quite frequently since he was born, adding to the seriousness of their plight.
Their son – we will call him Jonny, had contracted RSV when he was just a few months old, on top of his previous medical issues.  RSV for infants that young can be deadly to the point they have to stay at the hospital for the duration of the infection.
Jonny had just started sleeping through the night in his pack-in-play. Or at least he was till a flea infestation in the room, unknown to them at the time, left the infant with flea bites from head-to-toe. It was so damn bad, he couldn't sleep anymore and they would stay awake with him as he screamed and cried through the night.  They themselves would suffer from the flea bites.
A further slap in the face was that they couldn't use chemicals to get rid of the flies off the clothing that was salvageable – almost none of it – because their infant son couldn't be exposed to said chemicals due to his medical issues.
The fleas would decimate almost ALL of the clothing they brought with, including the car seat, port-a-crib, and infant carrier.  So now they weren't only almost broke, but they would have to replace all the clothes somehow.  You can bet most of the charitable places in that area that give out clothes were already overwhelmed.
Of course they couldn't switch rooms. There were no other available rooms. All had been taken by insurance agents and other survivors and refugees of the hurricanes wrath.  They were stuck there.
George would roam the hotel hallways to clear his head and to think of any way to improve their situation. Of course, he would be penalized for this.
While observing construction that was going off in an area of the hotel – that strangely wasn't taped off, George would step on a piece of metal and puncture his foot – something that looked like a large metal construction staple.  It wasn't even near the obvious area of construction.
He would be in immense pain from it.
George's wife mentioned that she had never seen him scream or cry before, but when he pulled this staple out, he cried from the pain. Perhaps the mental and emotional burdens on top of this recent were enough to put him over the edge.  When thrown in the mix of losing everything you have, it must have felt like a release.
Now I don't know what happened to them after this.  I hope they were able to find a place to stay.  Mail had to be sent to his mother's house in another state – that's the closest relatives they had in proximity.
They had lost everything, but at least they had some family.  Their stuff could be replaced, as tragic as their situation was, but family can't.
——————————————————————————————
Family First
When you are obsessing over the stuff you don't have, just remember to take a look at those who have nothing – through no fault of their own.
Spend time with your family. You never know how much time you really have with them.  New flatscreens and crazy sales designed to lure you into dishing out for a new one you don't really need will always be around.  Your family may not.
When me and my wife lived 8 hours away from most of our family – specifically mine, it made me realize how much I miss them.  With so many families with members scattered across the states, Thanksgiving may be one of the few days where everyone will be gathered there together.
Make the most of it.  You can go shopping later, which you probably don't need to.