Ever wonder why half the people you talk to when you want to buy something sound like they are reading off a script? It's because we are.  When I answer yet another mind-numbing phone call at the call center I work at, I have SCRIPTED responses to people regardless of their questions or what they want.
Often, most of these agents have no idea actually solve your problems because all customer service cubicle clones are half-assed sales agents per company orders. They'll read some scripted utterances off the call flow, and if they are doing their job description, pitch all the products the company has to offer. Forget the actual customer service part.  Usually it's done poorly because it's hard to sell to people when they are flipping out that their bill is wrong or that their internet doesn't work. Still if you don't pitch, you'll see the back door of shame peons.
Remember hearing that word "Recommend"? 
It's the most powerful word in sales, and 80% of the time that you'll hear it, the buffoonish liars using it don't know their head from their ass about what they are recommending.
Yet consumer sheeple fall for it all the time. Why is that?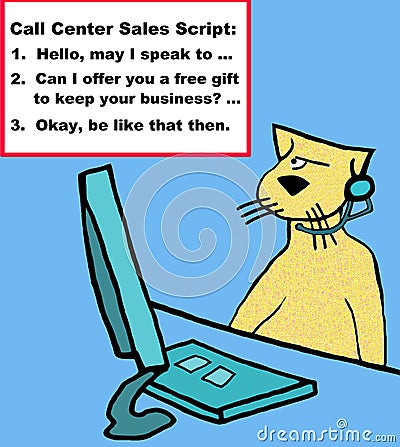 Because Experts recommend, and people who "Recommend" must be experts. In Weimerica, experts are the modern priests to always be trusted. They whisper directly to the American gods of pills, shitty products, terrible parenting advice, and diagnosing curious kids full of energy with ADHD.  The equivalent skepticism showed toward those religious Sky god believers has yet to be applied to our priestly expert class. Hypocrites, the lot of  you.
We ask mandatory "discovery questions", and regardless if you have TV or want a landline phone – most people don't – we will be sure to "Recommend" and "suggest" that people get that triple play package, even if all they wanted was internet.  My favorite rebuttal that they use is that if you call 911, they will know where you are right away.
Sounds like a great reason to pay 30$ + whatever phone tax there is.  That's assuming we get past the numerous amount of customers who are set on cutting the cord and replacing cable with Sling, prime, Netflix, or a host of online options.   I can only appeal to a customer's inner escapism so much to overcome the, "I'm not at home enough to watch TV."
But back to that call flow, because if we don't, we aren't following the call flow – and that's a diabolical naughty.
In a shocking twist, even if our sales numbers are insane, the company doesn't care if we aren't following that magical flow they invested time and money in perfecting. 
Saying that call center scripts are harming your company would be like saying that smoking is bad for your health.
This call flow that must be followed because millions were spent by the company I work for paying data analysts to examine how to trick that extra 5% of people into getting a landline.  Even our attempts to "connect" with our customers are superficial, bordering on soul sucking.  The interaction starts with the following drudgery literally anyone can do and that's the damn point. For instance:
Thank you for calling **********!  My name is __________.  How can I help you set up your services today?
Assume the sale.  The first lesson in sales.
"Once again my name is  ______________. Who do I have the pleasure of speaking with?"
I'm reveling in pleasure over here. I don't know you, but I'm thrilled to talk to you. I'm your friend, not some random sales person. Feel at ease.  You can buy products from me. You know you want to.
May I have a phone number that we can use to reach with information about your ********** services?
Notice that last word? Services. If you give it, we can spam you with calls later – assuming an order is placed.  It's dressed up in perfect legal speak.  Like everything else. We are a litigious cursed society filled with lawyers looking to make a buck either on the lawsuit or consulting basis to avoid said lawsuit. Brilliant.  My personal favorite that I have to read off  EVERY DAMN order is:
"Can I use the phone number you provided for marketing related information and messages including updates about your installation appointment?"
95% of the time this works. If I thrown in a "In case we get disconnected", its basically 100%. Then again, my vendor's client doesn't like that because it gives a bad implication about our service.  What a joke.
We are speaking in riddles and people only solve the part of that riddle that we allow them.  Purposeful misdirect. We are magicians of the illusion. A handful of times people don't want to give out their numbers because they are only shopping and ruining my numbers – pun intended.  Besides that, this statistical manipulation of the human psyche works wonders. It's disturbing if you think about it deeply.
That last part of the statement is perfect. It gets you  to focus on the upcoming service you are about to get and not the fact we are going to send you lots of mail. It's again perfect from a legal stand point, and I'm sure whatever part of the budget they blew on that precise wording has to be followed to the letter.  Can't have that money go to waste with all the job slashing these days.
The irony is that sales is one of the few jobs you can't automate away.  If your products sucks in comparison to the competition, silver tongued devils will be needed to ease your worries and present it in just the right way to overcome your objections.
Robots can't rebuttal based on the customers needs – yet.  Corporate still tries to tell to pitch on "Value" which translated without bullshit = "Our products sucks compared to competitiion and is more expensive."  Again, you might be able to put the right spin on shit, but its still often shit.
Everything and everyone is a damned statistic when it comes to that shit.
People automatically assume manipulation is a bad thing.  If it is, everyone is doing it all the time – specifically all those corporations and governments no one really likes. Every sales agent is being slowly converted into a PR spokesperson, complete with stripping your personality away.
Anytime you buy anything off the phone, a script must be followed to provide the barely legal spin on what the product is supposed to do.  Phrases like "Up to", "as much as", and "enjoy" grab your attention away from the rest of the underhanded mind trickery that is occurring.
Imagine doing this everyday for at least 8 hours.
Your sanity starts to degrade. I don't even necessarily dread going to work, but answering the next call and saying the same thing – again. Humans weren't meant to be robotic automatons, but we are a liability for corporations in that finely tuned machine.  You just  never know what we might tweet next, let alone say in confidence. Hell, we don't even know where all this data gathering itself is gonna lead!
I received a reject from our esteemed quality department where call center agents who are rejects go to feel good about themselves and trip on a limited power high.  Apparently me joking with a customer about their internet speeds being so fast they should rent some to their neighbors for a monthly fee was "unprofessional".
So much for connecting with your customer.
Humor must be eliminated, as should actual human connection. That call shouldn't last over 15 minutes, regardless of what has to be covered in disclosures for quality purposes.  What I find fascinating is that so many of the big wigs and head honcho managers haven't been agents, let alone spent time on the sales floor taking floods of calls.
Despite this they still dictate what should be said and what we can say.  Half the sales techniques I used to use were essentially banned because my vendor's employers thought that it gave off the wrong implications.  Placing a pending order – a sales floor staple – gone because some number crunching high up types want to tweak those percentages.
Big data cant analyze those variables. Neither cant the scripts we are supposed to ramble in accordance with. But hey, as long as we cover those legal bases and do some pseudo connections with our customers?
Well, this ended up being a rant.