Infamous internet super villain and guardian of the keyboard shortcuts Davis Aurini had his YouTube channel come tumbling down courtesy of what appears to be a targeted flagging/reporting campaign against his videos.  It's still not clear whether it was just one user reporting multiple videos, or multiple users reporting videos.  They did however report several.   Aurini's gmail was also the targeted, though the hacker(s) weren't successful.
Malice indeed.   As you all know Aurini is almost the equivalent of Hitler because SJW's tell  us so.  Obviously, he deserves this.
What is clear is that the videos that have been taken down by YouTube aren't anymore "offensive" or guilty of TOS violations then the many other various videos on YouTube which advocate everything from assassinating Donald Trump to street fights, drug use, and even "hate speech" like presentations on how white people are the worst.  I don't think we've seen this kind  of equal treatment and application of a TOS agreement  since the fall of Rome.   (I'm looking at you MTV.)
Luckily, his videos have been restored.  I initially feared that considering how his channel was taken down, someone in the YouTube hierarchy might just delete the videos, though a backup of some kind usually remains.   Five henious and dangerous videos however were not restored as they "violated" Youtube's guidelines.  How they do exactly is well, bizarre.  Look at the videos they wouldn't restore:
Did YouTube simply jump the gun after the amount – still just an educated guess on that – of users reported his videos?  I find it highly unlikely, considering other situations where videos have been mass reported, even though they don't necessarily violate the TOS and how YouTube hasn't taken them down.  Aurini has got the attention of someone with some real connections.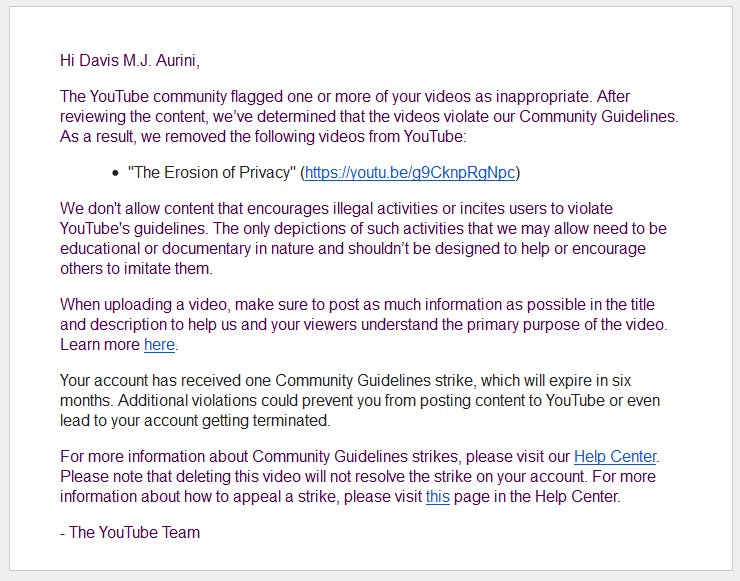 We know YouTube has a system in place to negate mass attacks of people reporting videos that don't actually violate the TOS, considering everything from mass reporting of  Justin Beiber's music videos to some of the most controversial videos on Youtube.   Obviously, the Tube has dealt with this problem before.  In fact, the inherent flaws of their reporting system has been a topic of conversation – with some pointing out that you might have to reveal your address in the process of getting a report dismissed.  (See Internet Aristocrat on that.)
Of course the beneficiaries  seem to be highly dependent on how popular your channel is and/or how much of a shitlord SJW types accuse you of being.  Perhaps Sargon's email toward YouTube was enough to get "someone else" at YouTube to look at the reports against the channel.  (I for one hope this may ease the tension between Aurini and Sargon as I am partial to both.)
https://twitter.com/Sargon_of_Akkad/status/708245025851904001
When it comes to reporting a video, the system put in place for flagged videos will not automatically be taken down, even if it's multiple users reporting and flagging videos on the channel.  According to YouTubes' support section on flagging videos, "Flagged videos are not automatically taken down by the flagging system. If a video doesn't violate our guidelines, no amount of flagging will change that, and the video will stay on the site."
Someone had to have "approved" the complaints. Multiple times.  Note the amount of false reports YouTube gets and employees are used to dismissing  them, a habit that should be almost hardwired into their subconscious.  This make's it unlikely that it was accidental.
I'm all about the conspiracy theories, so I'll throw this idea out there:  Someone at YouTube made sure Aurini's account was taken down, even though they knew it would later be restored.  It's essentially a warning shot that  while Aurini should be proud he was worthy of, precautions and backups are in his future.    Consider the implications of this being that Aurini has more reach then he or any of us realized or that he really did indeed piss of the wrong people who  have connections.
Think the idea of someone with "connections" being able to do this is far-fetched?   Recall the recent tribulation of podcaster and comedian Mike David – dubbed #ComedyGate – who crossed the wrong feminist comedian in Amy Miller who had friends in all the right places.
"Despite the attempt by David to make amends, Miller, who claimed David was encouraging his followers to "harass" her, relentlessly reported him on social media and quickly got both his Facebook and YouTube accounts suspended. Astonishingly, Miller openly bragged about alleged high-level connections in Silicon Valley who helped make the suspensions happen."
Take that in for a second.  A barely known feminist comedian somehow has friends who work at social media giants who also have enough influence to ban and take down accounts until, (1) the targets complaints go to the next level, (2) enough social media buzz is generated to grab the attention of a manager.   This tactic is simply to get the target screwed up enough for a while that they re-think speaking out or crossing certain individuals.   It does this effectively and also scares off other potential voices from making critiques of the party members –  they have a reputation that can be trashed on social media or if their job is heavily internet related.
Mike is finally getting his accounts back, but the goal to hurt him may have backfired with the exposure he got.  Will the same happen with Aurini?  I'd say he's more hated and loathed – by the same types who have attacked Mike David, but we will have to see.