Journalism The Weapon
Discretion and the choice of stories.
I wrote this article over two years ago and I still make updates.  Social media still drives media stories, but in the age of "#RESIST" Trump, coverage is more weaponized than it's ever been.   What's good for ratings is now the dominant driving force in coverage.   After all according to CNN's producer, they are there to make money and journalistic standards are a naivete for fools just out of journalism school.  He went as far as to admit that the Russian influence story was bullshit, but ratings are ratings.
To follow that bombshell up, CNN was so angered by Trumps tweeting of a meme of of him bodyslamming a photoshopped CNN figure in a WWE clip from years ago, that they actually went after a private citizen they thought first spread it. The overt threat to dox him a.k.a. #CnnBlackmail if he did anything else to irk seems to be the biggest low we've seen in years from any journalistic outlet, to say nothing of other questionable ethical coverage if Trump is the subject.
So what happened? How did we get here?
In school we taught that an attentive, honest, and responsible media must cover the pressing issues of the day, as well as what is considered news. Trump is apparently ground zero, but what drove headlines before?  Often it was the mid level outlets online that pumped out stories ripped from social media feeds, which if big enough would work there way up to the national media.
This mid level media would choose WHAT the news would be often based on what roused people the most.  The latter part of this article will prove that anger is what rouses people the most to share, tweet, and to fuel that firestorm. Fuel for that fire is often sought and driven  by "news" plucked from whatever the newest  twitter storms, Facebook trends, Reddit's front page, and whatever other platforms are blowing up what is often the latest tragedy.
Well, should journalists actually cover these kinds of stories?  Are they even stories worth covering? Should they be covered?  Are they actually newsworthy.  I guess that now depends on who is the subject matter.
One of the primary duties of the press has always been to cover the activities of our government and hold them transparent, as well as to focus on ethical issues that directly affect our societies and communities.  At one point, we had a slight bit of trust in journalists to show "discretion" in how they went about this – particularly after the early days of yellow journalism.  (More on that later.) 
The internet though has changed all of this and much of that change has been bad.  It can be seen in a series of steps, too often repeated:
– Find a controversy.
– Talk to some "sources,"
– Publish the story
– If new "details" come to light, you can always edit the article later, but the damage has already been done.  
Getting the scoop ALWAYS takes precedence.  This is the golden rule of today's internet journalism, because the buzz is always changing throughout the day.  If you want to remain relevant and continue to maintain meager ad revenue;  publish first, ask questions later.
In the 24 hour news cycle of the digital media age, the media – old and new – are the ones who set the agenda through the stories they choose to cover, what we would call the "narrative." Because of this cycle and the prominence of digital publications, the concept of a "journalist" and what actually constitutes journalism has been drastically altered.   We really still don't know as to how much or where that alteration will culminate, though we can see who and what is being left behind in its wake – it's often not pretty.
A significant moral responsibility exists for media publications both in which stories they choose to cover and the kind of coverage they give said stories – in particular the disclosure of private details necessary for a story and the balance at stake of the individual(s) in said story.
Again, the duty of a responsible media in a democracy is to objectively inform the public of issues and decisions that effect their society. This assumption is often applied to public figures, politicians, corruption, and social issues and to generate debate about them.
However because of online media in the last decade it has been applied more and more to people who aren't public figures or even in the spotlight. The ethical guidelines for protecting the privacy of the public has arguably become much more important in the last 20 years with the rise of digital media.  Everyone in the process is now in the crosshairs.
As it's been said, "If it bleeds, it leads."
Media Ethics
If I am honest, the concept of "ethics" in concern to media journalism  is not exactly a black and white issue.  In fact, its rather murky, especially when all the factors of privacy, loyalties, principle, values, and perspectives come into play.
One of the journalism classes I had to take was a capstone class called, "Media Ethics" which was taught by a rather smart woman.   I would describe this professor of mine as "oldschool",  conservative,  from South Africa, rigorous with her writing standards,  and a strong distaste for dancing.  She is also one of the best professors I've ever had.
What she forced me to do was to go through over 60 case studies and to examine how the story was told and whether it was broken the wrong way, who was hurt by it, the necessity of it, and the effects of it later.   Oh, and she had a ban list of how we could write about said studies and examples in our papers.
One of the studies dealt with Matt Drudge of the now famous online news giant, The Drudge Report, and how, when, and why he broke the Monica Lewinski story.
Newsweek wouldn't publish the story.  One suspects this is probably because of their more liberal bent, but it wouldn't stop Drudge from taking what would be his shot to prominence.  However, one very important question that still remains is, "Should he have broken the story?"
As a noted conservative, it should be fairly obvious that Matt Drudge and other conservatives stood to gain something in the public eye and political debate by the revelation of President Clinton's tempestuous actions of infidelity in the oval office.     It was after all Clinton's private life – specifically sexual privacy in general.  While he was THE public figure, did that entail the press to coverage about it?  Legally yes, but morally, I'm not so sure.
His revelation however did bring up the festering wounds of the old guard and "gatekeeper" publications like Newsweek for being far too cozy with the President Clinton. In fact, it doesn't exactly speak to fairness of the political bent of these old guards publications who refrained to break stories about the sordid affairs and problems in the private lives of previous liberal presidents and publicly elected officials such as FDR and John F. Kennedy.
Whether this was a matter of respect for the office, a secretive agreement and support for those president's policies and actions by the press, or a combination of both is up for debate. I would point out that the "respect for the president" is a myth when you look at the history of newspapers in America.
Not only were publications prone to bias, personal attacks, outright lies, and throughout the 1800s they were powerful and, "purposeful actors in the political process, linking parties, voters, and the government together, and pursuing specific political goals". In fact, consider how vicious newspapers were as early as the presidential election of 1800 which would involve threats, libel, and actual imprisonment by those involved with the press of the time.
Viral Standards
However, Drudge's disclosure has become child's play in light of the new players that have bullied their way onto the block and what details of public and semi-public figures can go viral for the world to see. The rise of online media giants like Gakwer, Vox Media, and Buzzfeed have contributed to a noticeable and worrisome change in what both journalists and readers accept – or become desensitized to – in concern to the ethical guidelines for fellow journalists and publications.
These publications in particular have started to attract millennials who go to these publications for their main source of news even though these publications have ethical standards that often resemble those of celebrity tabloids – Gakwer's Neetzan Zimmerman rise to "viral" power should come to mind – to the chagrin of any real journalists that still exist.
One specific issue that arises with site like Gakwer, Vice, Upworthy, and Buzfeed is that too many people consider them to be a "rough" form of journalism, even though they don't necessarily flaunt their supposed journalistic integrity and standards.   Essentially, they engage in forms of "journalism" without any actual standards or responsibility to go along with it.   Does that at all sound familiar on a certain buzzword in today's culture wars?
Now of course  the ilk mentioned above do not strive  to address those misconceptions of supposed "journalism" that they engage in, because ignorance is bliss for most faces on social media.   To my lament,  the majority of my fellow  uninformed and apathetic millennials assume that these rags are trustworthy sources of news and don't hesitate to post this rubbish on social media.
In fact, I've seen stories from parody sites that aren't humorous in nature, so they slip right past the Spidey sense that almost no one on my Facebook feed possesses.   I point out that its actually from a parody site, and I am rewarded by becoming the bad guy that is "too" serious.
"News literacy experts say that the way people consume information via social media increases the risk that readers will take a parody literally or buy into a hoax. "     
Buzzfeed, which any real journalist should rightly revile, averages 150,000,000 unique views per month and is worth three times more than traditional publishing giant, The Washington Post. You heard that right.  That is massive web traffic, which means that regardless of how good or ethical Buzzfeed's standard of journalism is,  people don't care or are unaware and are devouring every word their writers have to say.
Studies and "statistics"– which have become a buzzword in their own right – have been suggesting people are becoming more apathetic and less aware on issues and when it comes to the media it becomes more apparent. In line of the recent "gate" labels for controversy, "GruberGate" is evidence of politicians and their well paid consultants who literally think that the public is stupid.   They might actually be correct, though in all fairness Gruber didn't just outright mislead people – he lied.
"In 2013, for instance, I asked Gruber if Democrats understood that the ACA would slowly and methodically erode the system under which millions of Americans get health insurance through their jobs. In pitching the ACA, Democrats had been adamant that the law would support and sustain the employer-based system, not erode it. But Gruber knew better and he told me so, likening workers being kicked off job-based health plans to people "falling off a building," an outcome that architects of the ACA knew was likely and had planned for."
Consider the ethical standards of Gawker who have actually developed a feature called "Gawker Stalker" which helps people stalk celebrities via GPS on google maps and relay information about their exact whereabouts in real time on twitter which TMZ can then pick up on for their daily news scoop.  That is what the ethics standards for a publication like Gawker advocate on concepts like privacy.  This is especially ironic considering how much Gawker subsidiary Jezebel has ranted and raved about the atrocities of violating the privacy of female celebrities which they have directly encouraged with the fore-mentioned feature.
Of course, it is very comforting that these kinds of outlets have become the main source of news for millenials, but it gets worse as we get even more "news" from a kind of new quasi-comedic journalists/whistleblowers such as Jon Stewart, Stephen Colbert, and even John Oliver.
They aren't even actually journalists, but rather mildly amusing opinionated comedians  – usually with a left-wing bent – who make fun of  particular journalism and stories they disagree with, while putting their own opinionated spin on what Fox News has done wrong this time.    This doesn't stop their target audience from swallowing their "comedic perspective" and going out into the world with  faux smug enlightened grins about how stupid everyone else is.  I won't even touch on selection bias.
On top of that there is sufficient evidence to indicate that it not just millennials who wont will fact check or consult multiple sources about a story, but the public in general.  Then again, who cares the story is actually true or exaggerated? We can start weeping now.
That alone should be a cause for worry, especially in a rather toxic socio-political environment where people accuse each other of not being informed, rather than the more obvious fact of people being poorly and questionably informed and mislead.
 Those who do consider themselves to be properly informed are not in much better shape.   Often, they run into problems with data selection concerning statistics – often cherry picked – to form a specific narrative and worldview.   This is one reason why no one can tell us how much Obamcare really costs,  the financial benefits/disadvantages of raising the minimum wage, what part of Planned Parenthood's budget goes toward abortions, and what the actual "Rape" stats are.  
While these new digital publication challengers such as Buzzfeed and Vice remain supreme in their share of millennial readers, the old guard publication giants like The New York Times and The Wallstreet Journal have recently started to carve into their audience.
While these traditional giants aren't doing bad with millennials – something that surprises me – they have started to resort to similar questionable journalistic standards the new challengers  to lure in those with a limited attention span – my fellow millennials.  Even the Washington Post has started to closely resemble celebrity gossip tabloid TMZ with some of the articles they have published and it can't all be blamed on new owner, Amazon boss Jeff Bezos.
One of Gawker Media's subsidiary sites, Gizmodo, both defended and ironically examined the growing notice of the questionable lack and confusion in the ethics  of modern day journalists in how they attain important information about stories by somewhat nefarious means. In a piece by by Gizomodo's  John Cook ironically titled, "In Defense of Sleazy Journalism", about one of Rupert Murdoch news publications concerning the News Of The World scandal a key observation was made,
"Reporting is basically a variant of rudeness. Done right, it amounts to being indiscreet, airing dirty laundry, telling on someone, calling them out, embarrassing them, usually after lying to them to gain their confidence."
A rather honest observation if you think about how some of the biggest stories of the last 50 years have been broken. It's also a disturbing one when it comes to the concept of trust between journalists and the public.    Any journalist major worth his metal will have undoubtedly had to read, "All The President's Men" which details the largest "known" American political scandal, "Watergate" which would be the first in the line of "gates".
The book reveals some of the methods in which investigative reporters Woodward and Bernstein acquired much of the information about the Watergate scandal to the public , some of which were highly questionable.   On more than one occasion they lied, tricked, and deceived people/sources into revealing details and material they could use for their articles.
"In his book Mightier than the Sword: How the News Media Have Shaped American History, Rodger Streitmatter writes that the Woodward and Bernstein "begged, lied, badgered sources, and, on occasion, broke the law" in order to get the leads and confirmations needed to run their stories"
By today's standards, what they did is almost child's play, which should point to a VERY serious and growing problem with journalistic ethics when it comes to getting the information to acquire the "scoop."  Just consider how many "journalists" start digging through someone's twitter feeds which is technically a public space, but the fact that those tweets weren't meant to be seen by hundreds of thousands of angry internet protesters doesn't seem to matter if enough page views will come later.
So where do we actually draw the line as to how journalists should resort to acquiring information in ethical ways? Who sets the standards?  No doubt, some of those ways have been questionable and the line is further smudged by those who are willing to go even lower to get what they need.  In effect, publications like Gawker are starting to unofficially set that standard.   You don't need me to tell you how that is not good.
With the advent of social media – which I'm starting to think is a curse – the responsibility that journalists have in choosing what stories they will publish and which ones they won't are incredibly important. Leaked details from journalists have led to outright destruction of the livelihoods of not just public figures, but private people as well. It's extremely important that we consider the consequences of the disclosure of people's private lives in light of digital media. Because of the nature of digital media those professing to be journalists should realize the level of tremendous responsibility now on their broad shoulders.
As we shall soon see, even a slight personal detail can destroy someone's lives once online twitter mobs convince their employers to fire them.
We can only hope that one day  (1) employers will realize that twitter mobs are not potential customers nor their target audience  (2) will stop paying attention to their ludicrous demands and (3) that PR and controversy generated from them is not worth catering to the mob.
You can't please the mob, but you can weather the storm which dissipates as fast as our attention spans so often do.  Remember, the public has a short memory and a target that varies very VERY quickly.
The online effect of publishing a misleading, incomplete, or inaccurate story – even if updated later – is enough to ruin someone's career personally, effect a community, or destroy reputations. The pen – or rather the smartphone and laptop keyboard – have become much mightier than the sword with ill considered and no foresight given to the effects it may have later.
Rolling Stone's recent journalistic disaster comes to mind in which will probably be a case study for every media journalism 101 class for decades to come.   It is the most recent clear cut example of atrocious journalism ruining the lives of those in an entire frat house and destroying the reputation of UVA.   Note, feminists even called for the "rapist" to be revealed a.k.a. doxxed for the general public to hold "accountable."  We all know what that means when it comes to enforcing their narrative.
While the pen may in fact be mightier than the sword, the press should never use it's power to essentially carry out justice. It should present the facts and inform people and therefore allow readers to make their own conclusions.
Unless covering the personal lives and details of an individual is absolutely necessary to properly inform the public of a pressing and important issue, it should never be covered by journalists who believe themselves to retain even a slight ethical compass.   The key factor here is to never forget in these ethical situations exactly what the overall context may be and who it may effect – something that is often realized in hindsight.
If you aren't familiar with the "Potter Model" and don't want to bother learning about it, skip to the next paragraph.
–  J.S. Mill's Utilitarian line of thought and "The Greater Good" can be applied to the above conclusion.
–  Mill though is probably trumped by Rawls via the "Veil Of Ignorance"
–   Agape principle a.k.a. "Do unto others as you would have them do unto you," is necessary to the above conclusion.
  The Consequences Of Coverage
The importance of the choice of story that journalists and publications should publish comes to light in the infamous Gawker expose on an infamous subreddit called "Jailbait".  It featured scantily clad pictures of underage girls – not exactly illegal – but considered by a fair amount of people to be morally wrong and exploitative.  
This however may have changed with the amount of sexualization of the culture and porn exposure, but I digress.  "Jailbait" was moderated by then anonymous moderator "violentacrez" who presided over the subreddit.
Well, this of course rubbed many people the wrong way.  It appears that it generated enough controversy in some of the social justice and feminist corners of the web to get Gawker to devote some time and effort to figuring out who exactly violentacrez was.  A Gawker expose by Adrien Chen would reveal "violentacrez's true identity" to be that of a man named Michael Brutsch.
Before the story was published Chen had contacted Brutsch making him aware of the fact that he knew who he was and that he was going to publish a story about him.  Brutsch in turned begged Chen not to as he was certain it would have a substantial backlash against him in his private life.   Essentially, Chen knew that this article would most likely damage the both the financial well-being and reputation of Brutsch, who note was NOT a public individual.   Brutsch became an acceptable casualty in a type of public shaming designed to make him pay for wrongdoings – specifically in the public eye.
Chen went ahead and published the story anyway and it would turn out that Brutsch would be justified in his worry. Later Brutsch would be fired from his job and his healthcare that his disabled wife desperately needed would be lost with it.  He would also later confirm that he had received dozens of death threats which no one seemed to care about, Brutsch being a straight cis white male.
Before we pass judgement on Gawker – which I really enjoy –  and Chen as to whether it was wrong or right,  we need to realize the complexity of the situation.
Most people would agree that Brutsch's subreddit was morally reprehensible- though remember we are talking about Gawker here.   However was it appropriate in this case for the media to inform the public of a disturbing ethical situation on Reddit at the cost of the individual's job, livelihood, and the subsequent death threats by revealing his identity to the public?   Did the ends justify the means?
Considering the media does have a duty to inform the public of ethical issues, it could be argued that what Gawker did was acceptable.  They had to bring light to Brutsch's activity and questionable "exploitation" of images of girls online, though they probably knew the public backlash which the article would create would put a stop to the subreddit.
This line of action is "acceptable" if you assume a framework that appeals to "The Greater Good" – namely the sacrifice of Brutsch to address a "wrong" that supposedly affected quite a few people.    I however can't stop wondering if Chen would have refrained from publishing the article if the shoe was on the other foot.
The question we should all ask: "Why would Gawker consider this to be newsworthy and why it was covered so thoroughly compared to their other stories?"  
Your guess is probably as accurate or as disgusted as mine.
What Chen did – the disclosure of private details of an individual – has today has become known as unmasking  or more popularly described as "doxxing".     Note that in recent years, Gawker and its subsidiaries – specifically Jezebel –  has published alot of articles about how terrible doxxing is.
A flurry of those came out during the initial roar of #GamerGate and concerned how misogynistic it was that women were supposedly being doxxed, though Gawker and Jezebel had no problem doing it in the past – essentially "Do as I say, not as I do."
While "doxxing"was at first the bread and butter of angry angst ridden reddit and 4chan users, it has become disturbingly common in "journalistic" circles and subsequent publications under the guise of "investigative reporting" on whichever groups or individuals have been deemed acceptable targets.
The implications of this practice are troubling as Wired's Danah Boyd pointed out in her article about Gakwer's expose on Brutsch and this kind of new vigilantism that was being created by the articles like it on social media,
"Yet, how do we as a society weigh the moral costs of shining a spotlight on someone, however "bad" their actions are? What happens when, as a result of social media, vigilantism takes on a new form? How do we guarantee justice and punishment that fits the crime when we can use visibility as a tool for massive public shaming? " 
In the context of essentially using journalism and the ensuing visibility as a tool for publish shaming, it must be emphasized that the revelation of the Brutsch's identity is the primary reason the subreddit was shut down.
Again, assuming a utilitarian "Greater Good" principle on the matter, the disclosure of that particular detail was necessary to achieve Gawker's goal to inform the public.   Appeal to this principle however, will and has set a precedent that is a potential slippery slope.
If the outing of an anonymous online user for even the most moral reasons becomes common media practice, the media is then engaging in a form of "censorship" of anonymous individuals through the threat of possible revelation of their online identities and the consequences that so often follow.  Some may argue that there should be consequences to speech, but would they apply that conclusion to themselves?
The public shaming that can occur from the revelation is often so severe, that individuals have been forced into hiding after the internet- twitter cyber mobs in particular – demonstrate their rage and anger upon everything affiliated with said individuals.
What shocks me is the kind of inconsistent and often hypocritical approach toward the concept of revealing people who are anonymous online.  Liberal feminist publications in particular, will condemn anonymous individuals for criticism and the fact that they don't face public backlash for voicing said criticisms behind their anonymous cloak- often labeled harassment by said publications.  Even though its not harassment, people still remember the all present, "H" word.   Note, that it's not harassment when they do it. 
The inconsistency is revealed when these same liberal publications complain about doxxing of individuals and the disclosure of "private details" that can damage those doxxed.   This is often labeled harassment, but not when it came to the disclosure of some KKK members who made threats during the Ferguson controversy. 
It is curious, because many feminist publications in particular advocate revealing the identities of anonymous critics to make them "accountable" for said criticism. They often make this argument in regards to trolls whose behavior they consider to be borderline harassment.    Lindy West, a noted online feminist writer and fat acceptance activist makes the following observation in an article for The Guardian about online "trolling",
"Sometimes it's relatively innocuous (like asking contrarian questions just to start an argument) or juvenile (like making fun of my weight or my intelligence), but – particularly when the subject is a young woman – it frequently crosses the line into bona fide, dangerous stalking and harassment."
When a "troll" – a very subjective concept considering what some consider to be trolling these days – has their identity revealed to the online populace, the reaction often translates to trying to get them fired from their employment and ensuring that a Google search is enough to permanently destroy their reputation.    Tauriq Moosa in an article for the liberal NewStatesman makes the point:
"Again, just because you're responding to racism or sexism doesn't make your response right. I've seen no good come of publicly shaming someone, when public shaming is the sole response. Sure, someone is also shamed after being rightfully convicted, fired, etc, but there 'justice' wasn't merely a retweet."
I wish other liberal publications shared the same view, though Fredrick deBoer has lamented the response of the current SJW crowd to bystanders who get caught in their vice grip.   On one hand, doxxing people is bad. On the other, it is a perfectly acceptable tactic to silence dissent that gets too strong.  (Though sometimes, even the SJWs can only get away with so much.)   In other words, "the ends justify the means", when we wish it so.   If history is any measure of wisdom, mob justice has never been very fair in it's punishments.   While you may not be denounced French Revolution style as an enemy of the Republic, Google ensures that your denunciation will remain for all to see.
I suggest that journalists should approach stories that may involve revelation of anonymous identities with the two following principles in mind:
– Kant's principle of The Categorical Imperative in regards to allowing online users to stay always anonymous when covered by the press is a more valid presupposition to make in this and similar situations.
– The Golden Rule. How many of us would want similar treatment in the press even if we were on par with the depravity of Brutsch? It may be helpful to put ourselves in his shoes – something that Chen did not seem to do. In fact, it is surprising that Brutsch did not sue Chen considering he is not a public figure from a legal standpoint.
 Mainstream Media And Doxxing
Even reputable publications like Newseek have taken the plunge and engaged in this kind of public unmasking.  Newsweek did a famous article in revealing the true identity of the creator of Bitcoin who turned out to be a 64-year-old man and train enthusiast named Satoshi Nakamoto who had essentially created the worlds first working and successful "crypto currency."
The context of this situation is again extremely important here. The implications of revealing his name, as well as personal details including pictures of his house and car are mind-blowing. One issue itself is the Bitcoin currency and some of the elements that use it – namely some who frequent the infamous "Darknet"
While it's free from any actual kind of financial regulation or government interference, it is used by criminal networks that are notorious on the  darknet who engage in transactions from everything from buying drugs to hiring actual assassins.  No, I'm not exaggerating about that.
The Newsweek story had potentially opened up Nakamoto as a target for criminals all in the name of publishing a story  and it revealed MANY details about Nakamoto that arguably weren't necessary to the story as an article from Gigaom points out:
"Newsweek included many personal details about Nakamoto, including his work history and details about his extended family, and even his personal health — and they posted a photo of his home, one in which you could clearly see his address and the licence plate on his car."
With the information and private details of the creator of Bitcoin now flaunted for the world to see, Nakamoto is exposed to the potential criminal elements who could desire to kidnap him to acquire in-depth information and potential means to exploit Bitcoin and its users.  Also consider that just one Bitcoin itself ranges in worth of 75 – 300$.
The Edward Snowden leaks in particular present one of the biggest challenges in the last 20 years for the media in choosing what they would and wouldn't publish. Arguably the media's responsibility to the public in a democratic society is to consistently cast the probe of investigation on to the government to make sure that transparency is always there.
An important dynamic came into play that forced the hand of the Guardian in that the British government actually planned to force the publication to destroy the hard-drives that contained the leaks. Usually if someone doesn't want a story to be covered and resorts to destroying evidence, we should all smell a rat.  Luckily, the press this time did not have their noses stuffed in the name of  "National Security".   Of course,  the U.S. Government would and does continue insist that the Snowden disclosure puts national security at great risk.
However to this day there are still certain pieces of information not published by the press for that reason which notably has attained a rather tight balance on public disclosure of the documents in light of what might hurt the public vs. what they need to know.
Even the most ardent supporters of the actions of Edward Snowden – myself included – will acknowledge that his revelations did expose elements of our government that could potentially undermine it. However many in media from all sides of the spectrum deemed the disclosures to not only be newsworthy, but important enough to keep pressing forward with the stories impact.
In this case it is certain I would endorse the appeal to "The Greater Good,"  that was obviously adhered to by the press rather then accepting the government's time held excuse of "national security. Of course, a story of this magnitude also influenced the media's decision to publish it.
Currently, the Ferguson controversy brings up a new and significantly more and more important factor in the disclosure of private details by the press; the publication of previously revealed private details by lesser known outlets, bloggers, and even hackers by large mainstream publications.
The New York Times, which might arguably be the publication that sets the bar for journalistic standards, was scolded by fellow journalists and publications for publishing the address of the officer Darren Wilson who is a known name in national headlines after having shot Michael Brown. This revelation occurred through the posting of an image of his marriage certificate by the New York Times.
Considering that it was public knowledge that Wilson had received many death threats, it comes as a shock that the New York Times would justify revealing the address. When the New York Times responded to criticism of the revelation by both Howard Kurtz of Fox News and Erik Wemple of The Washington Post in particular, they justified the revelation under the fact that it was already public knowledge.
While this was in fact true, it sets a disturbing precedent for larger and more mainstream publications that arguably lowers the bar as to what is acceptable disclosure of someone's details when their lives could be in jeopardy.  Officer Wilson's address might have been public knowledge on Reddit, Gawker, and twitter, but the disclosure of that address in the nations most read publication has a much larger and possibly more deadly impact.
Journalism nowadays is undoubtedly incurring substantial questions about what is appropriate and what is not when it comes to the choice of stories as well as the revelation of details in people's private lives. All of the blame, however, can't be specifically laid at the feet of mainstream publications and even the click-bait publications such as Gawker, Buzzfeed, Upworthy, and a series of deteriorating blogs who will actually resort to making things up.   (Seriously, read that link. It's shocking.) 
New Challengers
As journalistic mediums adapt to new markets and demands of their audience, they are unfortunately forced to cater to a social media influenced audience who is now not only used to the idea of publicizing daily events of their lives but expect it. The idea of what is ethical and what is not in journalism has been massively impacted by the juggernaut that is online media and the dominance of the constantly updating online news feed.
It is therefore not surprising when the majority of readers don't so much as bat an eyelash at the disclosure of private details of people by the press. These readers often demand more of these kinds of disclosures and a nasty cycle is therefore created and perpetually maintained.
Now even blogs, YouTubers, and twitter feeds are turning into main sources of news and creating new questions of not only who is a public figure, but also how the standards should be applied to these new growing mediums.    For instance, should we hold YouTube to certain journalistic standards?  Well, one can certainly try.
Where the line is drawn with even determining who a public figure is has become difficult as new social media applications such as twitter personalities, YouTube channel hosts, Vine, and Instagram users have become pseudo celebrities and therefore have sometimes become potential "stories."
Take into account that celebrities have long been a curious and vain obsession of the American public. Various tabloids cover their every waking action including what might be in their Starbucks shake. Now that the pool of celebrities has been greatly expanded, the journalistic standards and ethics on the disclosure of the details of people's lives are all that much more important.
Last but not least, the ethics of choosing stories in light of appearing to promote specific cultural and social issues is a subject that need to be carefully considered. In fact, the line nowadays has grown very murky.|
As mentioned before, seemingly everyone can become a journalist nowadays and engage in the disturbing practice that is narrative bias confirmation – or as I call it, preaching to your choir.   If you want to publish a certain kind of story, you will latch on to experiments and stories that fit that per-determined narrative – whether it is there or not.    Your readers already want to believe the worst about your mutual opponents, so it just yet another slam dunk in the enfolding story.    (Interesting debate on "Narrative Journalism" here.)
One of the most recent viral video that became news involved a young white women who had walked 100 hours around the city of New York and was catcalled by various men. In what can only be described as either journalists failing to do basic homework or trying to push a very specific narrative, they failed to disclose that all of the catcalls occurred on just a few specific streets that were all in Harlem.
Not surprisingly, all of the cat-callers on the video were African American males – which caused a big ruckus within liberal circles about the "race element" to the story.   This is particularly interesting as said liberals were forced to choose between loyalty to the minorities or to the feminist perspective on the matter.   It wreaked havoc within the "intersectional" feminist complex in particular.
These objective and truth driven journalists also failed to mention the context of catcalling in African American culture which is not seen as a negative action, but rather an accepted an expected one. The context obviously did not fit their narrative.  One also wonders if the same worry would have been extended had all the cat-callers been straight white men.
In the end it is the audience and the readers – all of us who actually still care – which must demand high standards of integrity and ethics from anyone they consider to be a journalist or hopefully at some point start questioning the narrative, the stories, and the facts of said "journalists".
Effects In Hindsight
History holds key lessons – some of them quite bloody – in the repercussions that shook nations, stirred foment, and publicized serial killers.   Take for example the numerous papers who stoked the American Civil war and the manipulation from all involved during it. 
Or the two newspaper mad-men like giants William R. Hearst and Joseph Pulitzer whose journalism would be coined, "yellow journalism" in regards to the tales they spun and stories that were literally made up.  Yes, that Pulitzer who the award is named after.
The role of Hearst in helping to start the Spanish-American War can't be understated; historians actually consider it the first press driven war.   He would send his top artists – Frederic Remington in particular – to create drawings of the atrocities supposedly being committed down in Cuba by the Spanish.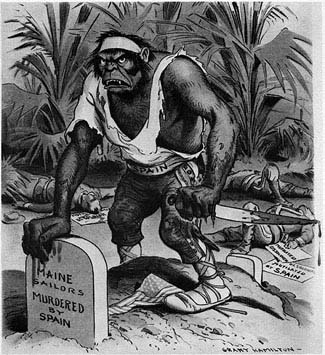 When Remington told Hearst that the rumors of the atrocities were exaggerated and over-hyped,  Heart uttered this infamous phrase, "You furnish the pictures and I'll furnish the war."   Remington would do just that and two of his false pictures would grab headlines and stoke the fervors of war even more:
"For instance, he drew some pictures of an American woman being brutally searched by Spanish male security forces. This apparently never happened, as only female officials searched American females coming into the country. In addition, Remington's famous painting of the Rough Riders charging up San Juan Hill was based not on the actual charge, but on a reenactment performed by the Rough Riders."
The truth didn't sell newspapers, but false stories would and for the price of just a cent! In fact, Hearst was sure that a war between Spain and America would sell him even more papers – which it would.   When the USS Maine exploded and sunk in February 15th of 1897, Hearst wrote a galvanizing piece in which he blamed Spain for the accident and attributed it to treachery.   Here are two choice paragraphs from it:
"It was an accident, they say. Perhaps it was, but accident or not, it would never have happened if there had been peace in Cuba, as there would have been if we had done our duty. And it was an accident of a remarkably convenient kind for Spain. Two days ago we had five battleships in the Atlantic. Today we have four. A few more such accidents will leave us at the mercy of a Spanish fleet."

"The Government has set an investigation on foot, and the Journal has independently undertaken another. Between them the truth will soon be known. If it be found that the Spanish authorities have fought about this calamity, so profitable to themselves, no power from the White House to Wall Street will be able to restrain the American people from exacting a terrible retribution. And Spain's innocence must be clearly proven. All the circumstances of the case fix the burden of proof upon her."
Catch that?  Spain's innocence must be clearly proven. So essentially, guilty before proven innocent.  This tactic worked; it caused a war.   Perhaps some of have taken this lesson to heart with changes to "Preponderance of Evidence" that now rests on those accused of a crime who must prove their innocence instead of the accuser proving their guilt.  Yes, I'm referring to the rape hysteria and charges being tossed about like used wrappers on college campuses.
Fun fact: William Hearst is the inspiration for Orson Well's Citizen Kane.   Bad and downright journalism apparently had the ultimate price attached to it.
Lessons sometimes, are not as clearcut as that of Hearst.  When the Zodiac Killer began his rampage,  it is highly probable that the press publication of the rants and demands of the Zodiac killer enabled him to gain even more attention and jeopardize even more members of the public.
However, what alternative did they have? The police did not want the papers to give him any voice or attention.   He knew this and threatened that if they didn't publish his demands, he would kill more people.  Then again, he killed more people anyway.   Perhaps in hindsight they made the right decision by publishing his demands, but there was no way to tell at the time.   Yet again, a moral quandary to wade through.
Sometimes, the disclosure of the someone's private life is done with "good" intentions – or just a unwilling sacrifice for a certain cause.   The first "outing" of an LFBT individual wasn't done by detractors, haters, homophobes, or whatever "ist" we can throw out there; it was done deliberately by one of the biggest political heroes of the LGBT movement himself – Harvey Milk.
It starts  in 1975 with Oliver Sipple, who was a former marine that would have a direct hand in saving President Ford's life from an assassin by grabbing her arm just as she would squeeze the trigger.     Of course, the press would want to know everything about Sipple and his act of heroism and would dig up the fact that he was actually gay – something he had been hiding.
The would figure out that in San Francisco,  Sipple had been in touch with Milk and friendly with him.   Milk couldn't pass up such a PR opportunity for the LGBT movement to show that a gay man was capable of heroism – regardless of the wishes of Sipple.   Milk would leak the story to the San Francisco Chronicle and in turn destroy Sipple's life. 
Because he had become a semi-public figure in his act of saving the president, his private life would be divulged for all to see and him and his family would face tremendous backlash. He began to drink heavily.  In fact, he would start to ebb away both mentally and physically to the point that he wished he had never intervened to save Ford's life.
While plenty of blame can be laid at Milk's callous hands – something most people don't even know about as we don't like to talk about the bad things our "heroes" have done – the fact that the newspapers were willing to publish this controversial of a disclosure about Sipple's private life should make us wonder what the line is when it comes to the well-being of an individual and how specific disclosure's can effect their lives.
These same mistakes by self-proclaimed journalists and publications should not go unheeded.  In the future anyone who considers themselves to be any sort of "journalist"  should strive to avoid the scoop and the "developing" story if it's going to seriously impact someone's life.
Sometimes, the truth must be told, but how much of it, why, and who it may effect must carefully be considered.   In today's media climate, this is even more important to take to heart.    One tweet.  One post.  That's all it takes.   Perhaps, there really are some details of people's lives that the media should leave alone.  But then again, the new challengers on the block have no such hindrance.
So be skeptical of every last thing you read – regardless of who it is from, because chances are they have probably been duped as well.  Triple-check "sources" and go to multiple publications – specifically ones you disagree with – to get the other side of the story.    It's important to get outside of our own internet bubbles and echo chambers because the truth is often either very uncomfortable, deeply buried, or downright shunned.